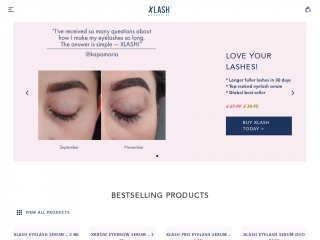 Mainstream beauty trends come and go but at Xlash Cosmetics, we believe that nature holds the key to truly timeless beauty.

Xlash Eyelash Growth Serum – loved by 3 million people worldwide

With the release of our ground-breaking Eyelash Growth Serum, Xlash Cosmetics was launched in Scandinavia in 2011. This innovative product, that stimulates lash growth, took the world by storm and is now available in more than 30 countries. The UK is our latest market to launch in and we're so excited that the Brits finally get to try our products!

With more than three million customers worldwide, we're a rapidly expanding global cosmetics brand. At the core of everything we do, there's an inspiration for natural beauty that empowers ambitious women. We stand for lasting beauty grounded in science, success and sustainability. Since launching we have added more products to our range that helps you to intensify your natural beauty. No matter if it's your lashes, lips or brows that you would like to enhance.

Xlash Cosmetics was born after realising there was a gap in the market for a gentle alternative to expensive lash extensions. With Xlash it's possible to get those gorgeous and long lashes, without adding fake ones or damaging your own lashes. Our products' effectiveness have been proven in several clinical trials, but also that they deliver results in a natural and safe way.

At Xlash Cosmetics we value timeless beauty higher than mainstream beauty trends. We're firm believers that nature holds the key to this. Therefore, we're creating innovative formulas where the powers of nature are combined with modern scientific techniques. At the core of everything we do there's an ambition to always produce products that can help to enhance the unique beauty of women all over the world. And of course, all of our products are free from harsh chemicals and irritants.