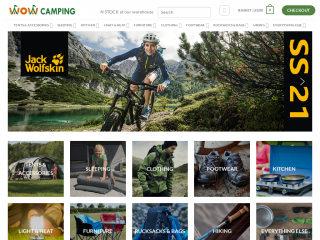 Stock up on all your camping essentials when you shop at Wow Camping's online Camping Store and rely on us to be your ultimate go-to for your next trip, whatever the location. We offer all your essential outdoor items, such as tents, camping furniture and camping stoves, ensuring you can get everything you need under one roof at great prices. We also provide a lot of additional camping and outdoor items that can really make the difference to your trip such as sleeping bags, specialist clothing, footwear and more! Being prepared with all you need to survive and enjoy the wilderness will make your trip run smoothly and means you can focus on your fellow campers and activities, rather than worrying about basic things such as warmth, meals and shelter – you'll have that all covered with Wow Camping!

Compared to other Online Camping Stores, we offer discounted rates that will ensure you get everything you need for camping without breaking the bank.

We know you want to have the best experience without having to shed out a load of money. Therefore, we offer the best, high-quality products from the major brands at the cheapest prices possible. We are also constantly updating our Online Camping Store to ensure we stock the latest products that will make your camping experience easier and more enjoyable.

With new models from the best brands out there on the camping scene, you will have the best choices at hand, from Vango & Coleman to Outwell & Kampa, we stock all the major brands. And when buying stock from Online Camping Stores, you can get access to so many items compared to when you shop on the high street. We are a trusted company with a reliable customer base who return every time they need their camping items. You can see from our reviews that you are buying from an experienced, professional company who want to help fulfil your camping needs.