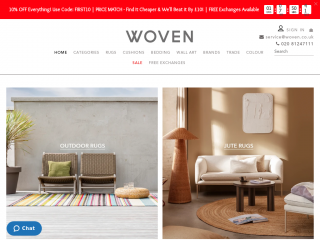 We are Woven, a London based online rug retailer that sell high-end and long-lasting designer rugs guaranteed to make any space look captivating. Launched in 2014, we have an expanding portfolio that includes assisting in rug selections for residential projects to multinational architect firms. Our unique understanding of the interior design market and keen eye for detail makes us the go-to choice for interior designers around the world.

Our exceptional selection includes modern rugs, Scandinavian rugs and flatweave rugs, all of which will be welcomed into any space with ease. We supply some of the worlds leading high class brands such as Louis De Poortere, Linie Design and Asiatic as providing our customers with the best quality products available is essential. From Lorena Canals and their washable kids rugs to Brink and Campman's quirky products, we cater to everyone's tastes.

We are proud be the UK's largest supplier of contemporary rugs offering a wide variety of colours, shapes, styles and textures. There is no better place more equipped with helping you find the perfect rug, regardless of your requirements.