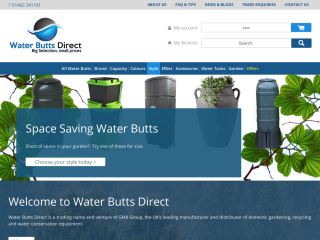 Water Butts Direct is a trading name of GM8 Group Ltd. It is also the UK's leading distributor of water butts for domestic and commercial usage and well as providing expert advice and installations for gardening, recycling and water conservation equipment.

Under the Water Butts Direct brand we offer a wide range of equipment for the home conservation of water – with speedy service for high quality products at great value prices. We have sold upwards of 50,000 units in the UK alone – and our buying power from all over the world enables us to pass on major savings to you. We do not sell cheap water butts – we sell high quality water butts and offer great value for money.

We're an environmentally friendly company with our key focus being on domestic recycling and water conservation. We work closely to a number of local authorities and government agencies and our products are the subjects of numerous media accolades and appearances.