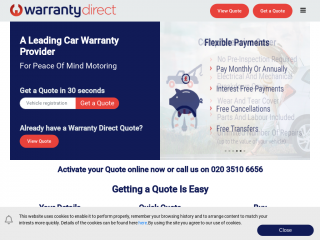 Warranty Direct owned by FirstBase (Future Marketing) Ltd (FBFM). FBFM is a specialist in the extended car warranty market. For many years FBFM has been selling and administering car warranties to consumers on behalf of corporate clients. Now FBFM has extended its presence in the market by offering extended warranty online directly to any car owner in the UK, under the Warranty Direct brand.

Warranty Direct is one of the longest serving and well-established brand names in the UK extended warranty market. FBFM is looking to build on this further by enhancing its reputation for quality, customer service and value for money.

FBFM's success to-date has been driven by a culture of authenticity, transparency and hassle-free customer service within its team and it is this deep-rooted culture with which FBFM is re-building the Warranty Direct brand.