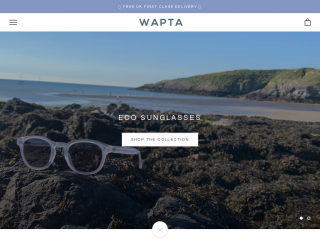 Say goodbye to cheap plastic. We only use materials from renewable sources to make our frames providing an alternative to plastic readers whilst improving quality and durability.

Wapta is a family business that had its start in our local restaurant. Like many of you, we hit the challenge of reading the menu in the dim lighting and did what everyone does...got our phones out and started using the camera torches! This led to the discussion on reading glasses and why they were never where you need them, why they tend to look ugly and cheap, and how we don't like how they make us feel. From this conversation and with a strong environmental ethos we set out to create readers that are not only stylish and more durable but also better for the environment.

When it comes to our reading glasses, we use Italian bio-plastic made from cotton and wood fibres which is 100% bio-degradable as opposed to conventional chemical plasticisers. Our packaging from our box to our mailers is also eco-friendly!

We understand that being environmentally conscious is a continuous process and whilst we can't be perfect from the start, we do our best as a new start-up looking to shake up the current status quo! We offset the carbon emissions that come from the deliveries and the necessary journeys of producing and getting the products to our HQ.