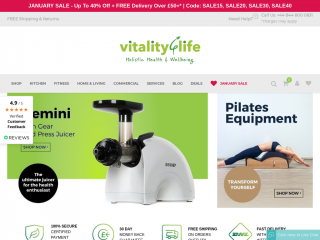 Vitality 4 Life UK was originally created to become the UK's one stop shop for all things health.

January 25th 2016 will see us reach out 10th Birthday and wow what a decade it has been. 2016 sees Vitality 4 Life not only selling the highest quality healthy products to the UK and Ireland but also working as the hub for our healthy sales team and distribution partners across the whole of Europe.

Our Vitality 4 Life Approved product range began with cold pressed juicers and since then has expanded to include water purification, Vibration technology and items for Wholistic exercise such as the Pilates machines.

Since it all started in 1995 we have worked globally with some of the world's top brands and manufacturers which has given us both great experience and knowledge, but the message from our customers has always been the same. "I love your juicer, I love your blender and I love your food dehydrator but my Kitchen cost thousands so I can't have 3 different shades of red in there". This is one of the reasons (along with many others) we launched the BioChef family of healthy Kitchen Appliances. Great functionality mixed with superb quality, superior design and most importantly a colour theme that runs throughout. We are so proud of our brand it has become our top focus and allowed us to become truly global, working with distribution partners all over the world including in the USA, Asia, Africa and the Middle East.

Located in the East Anglian city of Peterborough, our UK distribution centre and showroom also includes a large warehouse and office which houses a dedicated team of multilingual customer support agents, all with a passion for health and wellbeing. Should you have any questions regarding a product we offer or of one that is being sold elsewhere our team are more than happy to take the call on 0844 800 0831 or via our Live Chat function that is available in the bottom right hand corner of your screen right now.

We proudly offer a price match guarantee so should you find our products cheaper anywhere else we are happy to ensure you get the lowest price available. We also offer as standard a free next working day delivery either with DPD or via the warehouse and delivery partnership we hold with Amazon UK. After you place the order we will email and /or text you to let you know the hour it will be delivered so won't miss the arrival of your exciting new purchase.