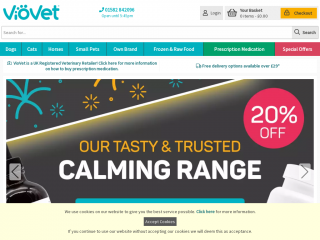 VioVet Ltd was founded in 2006 by Luke Cousins, the then 16-year-old son of a successful St Albans-based vet and veterinary nurse. The business was initially an experiment to help the family's veterinary practice sell medication and feeds online following a change to the laws governing the sale of prescription medications.

VioVet Ltd offers a variety of pet and horse supplies, including prescription and non-prescription medications, food, toys and equipment. We stock many of the leading market brands, as well as our own-branded products and supplements. This is all offered at considerable savings to the customer who can expect to receive excellent value for money and an efficient, professional service whenever they contact us.

Our dedicated team of trained customer service operators, SQPs and IT specialists deliver a 5 star service you'd be hard-pressed to find elsewhere. This is all supported by a fully bespoke and internally developed warehouse system and website, designed to make ordering from us as simple a process as possible.

We have an on-site Veterinary Surgeon who ensures our Medicines are stocked and dispensed to the highest standard of quality. Dr Nicholas Garside BVeMed MRCVS's registration details can be found on the RCVS register.

Our consistent levels of service have contributed to us being ranked among the top retailers of pet food and medication in the UK by Trustpilot.co.uk and featuring various times in the Telegraph and Guardian newspapers for our success.