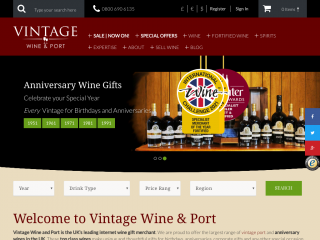 Vintage Wine and Port
Vintage Wine and Port is the UK's largest retailer of wine and vintage port gifts. We have over 2500 different wines and ports on offer and nearly 25,000 bottles housed in our cellars. All of our stock is our own and is available for immediate delivery.

Our cellars are located in the historic town of Fordingbridge, Hampshire. From here we export our wines anywhere within the UK and to over 40 countries around the world.