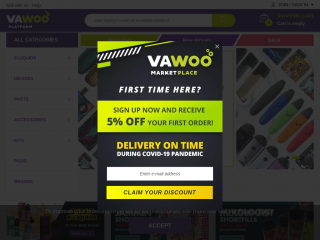 Vawoo.co.uk is the most expected vaping e-commerce online platform. We connect sellers, industry retailers, producers, e-liquids manufacturers, wholesalers and targeted customers — all in one place. Vawoo builds trustful relationships with industry essential players, expand brand recognition for the entire vaping auditory.

Vawoo.co.uk is an ideal place for every vape customer or buyer. Hundreds of customers from all around the UK started using Vawoo platform for one reason: with a simple click they can discover a large number of vape products from the best vape industry brands. Quick and easy sign up procedure will open the best e-liquids and vape hardware deals for you.

Vawoo is a perfect solution for all. As a customer, you will find an excellent online Platform with a large variety of e-liquid flavors, mods, pods and latest vape kits at the best prices in the UK and a wide range of vape accessories for them.