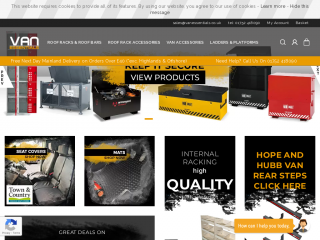 At Van Essentials we set out to source products that we believe to be better and yes generally slightly more expensive than the rest because that saying "You get what you pay for" is just so true. We really do pride ourselves on the quality of the products we supply and the level of service we offer our customers and we ALWAYS remember the customer pays our wages.

Our biggest suppliers are Hubb Systems , we went to Hubb and asked them to produce a range of products built to the standard we wanted removing the problems and enhancing the products already available from other manufactures to create the strongest commercials roof bar in the UK and that's exactly what they did with the Vecta Bars.

Because the product we supply are generally vehicle specific we will attempt to contact every customer who places an order with us to ensure you are ordering the correct parts for your vehicle and are the best suited products for the job required as for clear reasons it is very important for us that the correct equipment is supplied to you and we make huge efforts to align our product with what you're looking for.