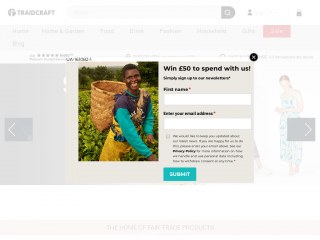 Traidcraft are the original fair trade pioneers in the UK; challenging the norm, fighting injustices and breaking rules for over four decades. We advocate the importance of organic farming, sustainability and transparency to the lives of growers and artisans around the world.

For over four decades, we have led the way in proving that fair trade could work commercially. Over the past 40 years, we pioneered the first fair trade chocolate, coffee, tea, fruit juice, wine, rice, honey, charcoal, rubber, palm oil… Almost everything we know today as fair trade began with Traidcraft.

We buy and sell fair trade. We are one of the leading, dedicated fair trade companies, in the UK and globally. We stock a huge range of ethical, fair trade foods, beverages, household cleaning and rubber products, as well as fair trade crafts and clothing, from artisans in over 30 developing countries.

Our movement of radical, church-based individuals began by importing goods directly from artisans and growers and distributing them directly to shoppers in the UK, cutting out the middlemen. The team collaborated with the growers and artisans throughout the process, and over time getting to know their needs, dreams and ambitions.

They were all partners – working together to show trade could be different and could be fair. Fair trade was no longer about aid; it was a collaborative process of learning and trading simultaneously.