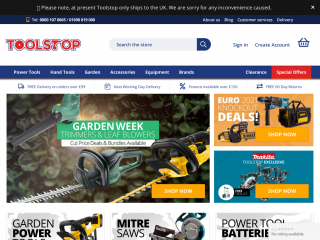 Since 1965, Toolstop has been focused on supplying tradespeople with tools from the best brands at competitive prices, with fast delivery, and have always had the same goal: serve our customers better than anyone else.

We've come a long way since the early days when Noel Kegg owned a small shop (which was also his home for the first year) and sold Stanley Hand Tools, Yale Locks, Ironmongery and Hardware. At lunch time he used to lock up shop and visit local businesses such as Caterpillar, Philips and Honeywell, who all gave him wish lists of tools and ironmongery that they required. He would then order these from his suppliers and deliver to the customers the following day when he would receive new wish lists.

Since then, we have gone through some major changes and with the launch of the Toolstop website in 2007, we have become one of the largest online suppliers of power tools worldwide, as well as being supplier to significant multinational retailers and with a wholesale division supplying tool dealers throughout the UK.

Toolstop remains a family run business and with the core principles of the 1960's still in place it's no wonder the company goes from strength to strength.