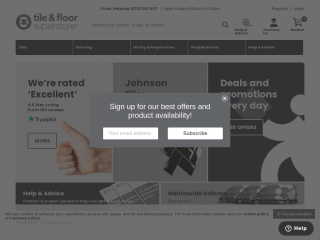 Tile and Floor Superstore offers more than 5,000 flooring products including marble and porcelain tiles, laminate flooring and carpet tiles. As well as the convenience of shopping online with 24-hour ordering, customers can also benefit from cmostores.com's award-winning customer service and telephone support.

cmostores.com's Tile and Floor Superstore complements the company's existing and successful specialist divisions; Door Superstore, Drainage Superstore, Insulation Superstore, and Roofing Superstore which serve thousands of customers each week across the UK. Since launching over a decade ago, our company's success has been primarily due to a dedication to complete customer satisfaction, which is supported by extensive product knowledge and focus on efficient service.

Frustrated with spiralling operating costs within the traditional route to market, our founders decided to utilise an eCommerce approach as a platform to spring-board the construction industry into the 21st century. The internet is now a trusted method for purchasing a wide range of products from a weekly food shop to household appliances but they felt like the construction industry had largely neglected the internet as a shopping platform.

We believe that Tile and Floor Superstore will give everyone the opportunity to secure their purchases online at a time convenient to themselves. From the DIY repair person, through to self-builders, trade customers and even large contractors. This alleviates the need to take time out of an already busy schedule to trawl local merchants for products that they may not even have in stock!