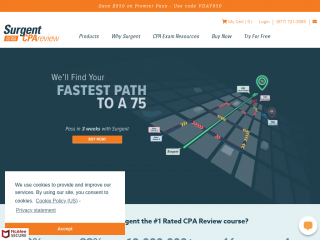 With Surgent CPA Review's comprehensive CPA Exam prep program, students pass the CPA Exam while actually studying less! We achieve this with our unique A.S.A.P. Technology™, which stands for Adaptive Study and Accelerated Performance.
Our A.S.A.P. Technology™ focuses students specifically on the topics they really need to study, not on the topics they already know. Surgent's full 4-part course is hyper-personalized, delivering daily study plans that update based on the student's progress in the course. Our video lectures are nano-sized, 20 minutes or less, and our qualified team of instructors offer a practical approach by answering actual questions from the exam. Our content is aligned to the new CPA Exam Blueprint and our practice exams are weighted and scored exactly like the actual CPA Exam. We offer competitive pricing with plans with unlimited course access, as well as a free 5-day trial and demo webinar.

Surgent CPA Review's bestselling Premier Pass is the winner of several prestigous awards, including Accounting Today's Top New Professional Education Product of 2018, and the American Business Awards'​ Gold Stevie Award (1st place) in the New Product or Service of the Year-Education-Postsecondary Personalized Learning Solution category.