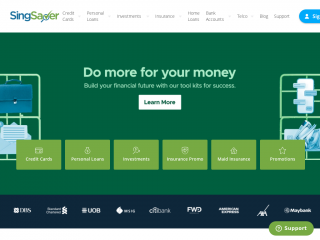 Our Mission
Personal finance can be complicated, but it doesn't have to be.

At SingSaver, we make personal finance accessible with easy to understand personal finance reads, tools and money hacks that simplify all of life's financial decisions for you. About to sign up for a financial product? Let us make sure you get rewarded for it, while making sure your experience is seamless! Most importantly, we've invested in the highest level of security possible to ensure that your personal data remains safe. When it comes to all things personal finance, think SingSaver, your trusted partner.

About Hyphen Group
Hyphen Group is a leading fintech company in Greater Southeast Asia, reaching over 10 million consumers per month and working with more than 220 financial institutions across six markets including Hong Kong, Malaysia, the Philippines, Singapore, Taiwan, and Thailand.

Founded in 2014 and dual-headquartered in Hong Kong and Singapore, Hyphen Group - formerly known as CompareAsiaGroup - is a portfolio of digital finance companies that empowers and connects people to a better financial future through innovative tools, personalised digital experiences and expert insights, and accelerates the digitisation of the financial industry. We build the future of personal finance through 3 pillars: Comparison and Membership (MoneyHero, CompareHero, MoneyMax, SingSaver, Money101, MoneyGuru and Seedly) as well as SaaS (eKos_connect). eKos_connect was launched in 2019 and is a SaaS provider connecting financial institutions with digital partners, affiliates and new users, supporting over 200 integrations through its partnership network.

Hyphen Group has raised more than US$110 million from investors including Experian, IFC - a member of the World Bank Group, Pacific Century Group, Goldman Sachs Investment Partners VC and Growth Equity, ACE & Company, Jardines, Alibaba Entrepreneurs Fund, SBI Group, H&Q Utrust, Stem Financial, and Route 66 Ventures.