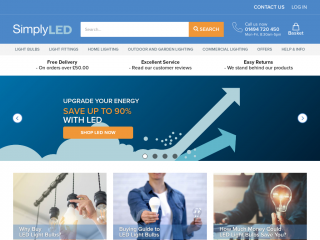 Our mission is a simple one: to make it easy for you to find high quality, low cost LED light bulbs.

SimplyLED is one of the largest LED light bulb retailers in the UK. We have secured contracts with the leading manufacturers of LED lighting products, which means our bulbs are the best in quality, light output and reliability. Often our bulbs are sold to the leading brands, so you can be sure that they are of the highest quality.

We have thousands of bulbs in stock at all times, and we are available to answer any questions you may have. We can take orders both online and over the phone. Our friendly staff are waiting for your call.