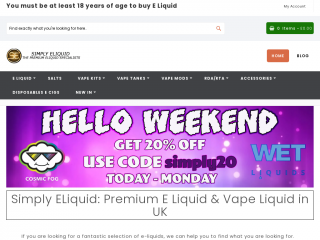 Here at Simply E Liquid, we strive for total customer satisfaction. We believe we can achieve that by offering a comprehensive product range at competitive prices. What's more, we've often got exclusive deals and special offers - both on our website and in-store.

Simply eLiquid is unlike other providers of e liquid, vaping kits and tanks, and accessories. For a start, we only stock products that are of high quality and from premium brands. We do this to ensure safety and quality. And because of our tightly controlled supply chain, you can be sure that you're buying genuine items. We aren't in the business of selling cheap knockoffs!

As a leading supplier of e liquid in Britain, Simply eLiquid can offer you hundreds of e liquid UK flavours. Think of any particular flavour, and we likely sell it! If you have any questions, please feel free to contact us. One of our team members will get back to you shortly.