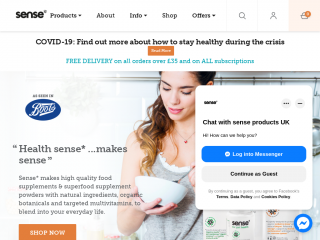 sense products are innovative superfood/supplements that combine science and nature to make the perfect balance for you and your lifestyle.
At sense* we want everyone to be super healthy. Our fast paced modern lifestyle surrounds us with temptations but if you take care of your body your body will take care of you. The sense range of lifestyle products are designed to complement your body's natural processes and give you that extra boost when you need it.

Each sense* lifestyle product comes with the sense* 30 day money back guarantee, So get ready for tomorrow by letting the sense lifestyle range of products take care of you.