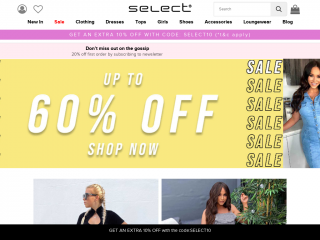 Select Fashion is a high-street women's-wear retailer aimed at 18-45 year olds. With up to 4,000 products (clothing, footwear and accessories), and new lines added each week, Select offers quality products inspired by the latest fashion trends at an affordable price.

We have stores across the UK stores and rapid expansion plans in place, our key focus is on opening more prime trading stores throughout the UK.

Select's product range covers key fashion needs, from trendy clothing to footwear and accessories. From the season's must-haves to essential items, every young woman will find her perfect match.

Select's website provides a great online fashion shopping experience and allows its customers to get their items delivered for free in the UK if they spend more than £30.