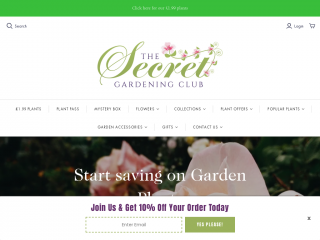 We are a close family business and are currently in our second generation. We are based on our natural lavender farm, Yorkshire Lavender in the North Yorkshire countryside.

Secret Garden Club sprang out of our popular promotion of overstocked plants. We noticed they sold fast to our growing market of seasoned gardeners! Knowing a number of high quality plant nurseries across the UK, we've started to sell off their stock too, to our Club members.

All the plants we sell are of the highest quality. They are priced as they are simply because we are able to take the over supply from the growers and pass on the considerable savings to you!

In fact quite often you will find the exact same plant from the grower, online at various retailers. The only difference is we supply the plants at up to 70% off...

Every week we let all of our club members know what great plants offers we have available. One just might catch your eye!