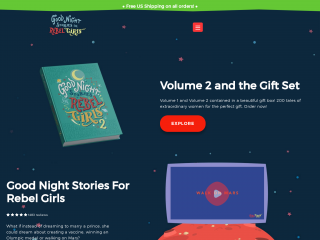 Timbuktu Magazine won lots of awards and was featured in so many amazing publications!

Fast forward to 2016, we have 12 mobile apps in the Apple App Store, we published 6 paper books in English, French and Italian and we built a toolkit that allows underserved communities to design and build playable spaces in collaboration with the NFL, Kaboom, Zynga.org and the YMCA.

Because we are girls. Our entrepreneurial journey made us understand how important it is for girls to grow up surrounded by female role models. It helps them to be more confident and set bigger goals. We realized that 95% of the books and TV shows we grew up with, lacked girls in prominent positions. We did some research and discovered that this didn't change much over the past 20 years, so we decided to do something about it.

Good Night Stories for Rebel Girls is a children's book series, that consists of Volume 1 and Volume 2. Each book is packed with 100 bedtime stories about the life of 100 extraordinary women from the past and the present and is illustrated by female artists from all over the world. The unique narrative style of "Good Night Stories for Rebel Girls" transforms each biography into a fairy-tale, filling the readers with wonder and with a burning curiosity to know more about each hero. Each story also has a full-page, full-color portrait that captures the spirit of the portrayed hero.

But, by any means, read these stories to your sons! It is crucial that they learn to identify and empathize also with female heroes! The stories in the book are a great source of inspiration for anyone, male or female, child or adult.