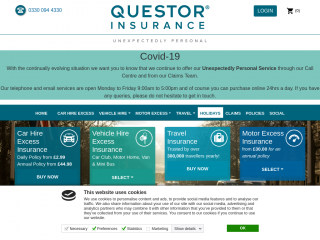 Questor Insurance is a trading brand of Riverside Underwriting Limited. Riverside Underwriting Limited is an insurance intermediary acting on behalf of the Underwriter.

We pride ourselves on facilitating a 'local and personal' experience to all our customers, via our customer intrinsic approach to the business, designing and distributing insurance products on a global scale.

Communication is key, and we value the importance of two-way communication. We appreciate that our customers lead busy lives and that they may have differing preferences of how they communicate with us. We have therefore developed a platform of different communication channels to be used by our customers to accommodate these needs, these include; telephone, email, live chat and social media. Whichever method a customer may choose, they will find that our staff are ready to go the extra mile to assist.