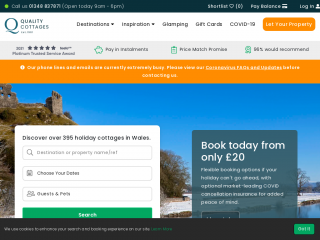 Quality Cottages began as a family business started 60 years ago in 1961. We specialise in providing Quality Cottages holiday cottage holidays throughout Wales. Leonard Rees inherited Cerbid Farm at the age of 17, then 10 years later ceased farming to convert the farm buildings into holiday cottages. For nearly 20 years there was a small portfolio of Cerbid cottages plus a small selection of other nearby cottages.

In 1979 the late holiday programme "Wish You Were Here" broadcast a television feature on Cerbid. The subsequent high demand for our cottages was the inspiration needed to grow the business. Soon after, Quality Cottages won Wales's first Gold award for self-catering tourism. Since the early years Quality Cottages has grown into a pan-Wales agency specialising in quality Welsh properties. We have had the privilege of promoting many beautiful properties and working with their caring owners.

Quality Unearthed started by Tim Rees, specialises in unusual holiday abodes throughout Britain such as tree houses, eco pods, gypsy wagons, yurts and more.

In 2021, Quality Cottages and Quality Unearthed were bought by Awaze, and we are excited to begin our new chapter under Awaze's ownership. Our priority remains promoting a high standard of property and caring for owners. Our local team members live and breathe Wales. We have an accumulated knowledge of Wales, its geography and history, unrivalled in our industry.

Presently, there are around 30 of us in the Quality Cottages team. We have a family approach to employment, putting the needs of people first. We feel this has a positive effect on health, happiness and profit.