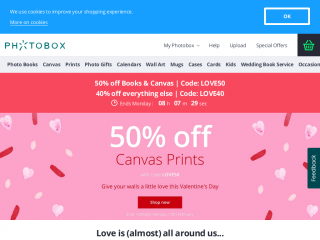 Since Photobox was founded in 2000 we've worked obsessively to simplify the printing and personalising of digital photos online. From humble origins (a first day's sale of just £2.70 - albeit to a customer we're proud to still serve today) Photobox has grown to become the European market-leader in photo-based products serving millions of customers a year in over ten markets.

Whether it's personalised canvases, calendars, mugs, jigsaws, phone covers, or our classic photo books, Photobox has a wide range of products perfect for every occasion.

We understand special moments deserved to be cherished that's why we treat every order as if it's our own. From births to birthdays, holidays to honeymoons, Christmas to Valentine's Day and everything in between, our teams focus on the delivery of a brilliant end to end experience from the digital journey through to high quality products arriving into our customers hands.