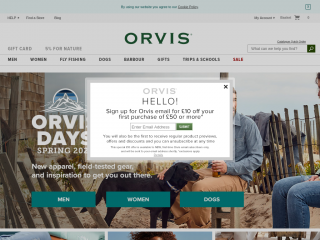 Orvis is a brand synonymous with the outdoors. Founded in 1856 by Charles F. Orvis in Manchester, Vermont, USA, we have continued to inspire a deep connection to adventure and wonder in the natural world for 160 years.

We're passionate about the life outdoors: the appetite for adventure runs in our veins. In addition to offering world-class fly fishing equipment and sporting adventures, Orvis UK offers men's and women's apparel, home furnishings, gifts, and dog products.

We deliver on our promise to provide an impeccable customer experience, ensuring that each item is rooted in our heritage of authenticity and knowledge of the outdoors.

Fly-fishing is part of our DNA. As such, we endeavour to protect the UK's rivers, working with numerous conservation partners. We commit 5% of pre-tax profits to protecting and sustaining the natural world, not only now, but for all who follow.