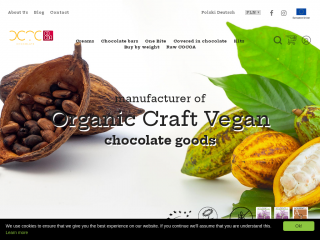 Try to imagine , that the choice of your idea for business is to open an online shop with Superfoods. It all seemed to be very easy at the time-Alas how far were we from reality! All we had to do is buy the raw material and prepack it in retail bags. When you find out, you can not do it in your own kitchen , you go accordingly and rent a suitable place. However if the place you've rented is a little too big for your small business naturally you start to think how you can develop your offer. For us the most obvious and organic way was to start the production of chocolate. Indeed the processes of unroasted cocoa beans and coconut blossom sugar which we actually currently have in our assortments , seemed to be so easy to work with. That year was back in 2010 and that same year we learned that our chocolate storry will not be as simple as we thought it might be!

The first place which we rented was an old Confectionery workshop measuring exactly 60m2. Our equipment at the time- although basic was perfect for our start up chocolate business. It consisted of our coating pan- made in 1971, our neither younger cooking boiler and the only new piece of equipment our tempering machine.With no experience you can do a lot of things, but when it comes to the food production business- if something isn't based on the smallest theoretical preparation – doesn't bode well.

Very quickly we realised that we will be in need of help. Starting up a chocolate buisness from scratch wasn't only about the production. We had to also develope a website, tune in to social media, create an online storeand of corse begin our marketing.The first people we employed were a few members from our families and friends circles.

After three years of gainning experience on the market we needed more space. As our team increased our confectionery workshop decreased in space. So we rented the next 600m2 space which demanded a well needed renovation.

Working on a bigger scale, made us quickly realise that a higher standard of professional equipment for production will be needed. Therefore we took a bank credit and purchased some more machines!