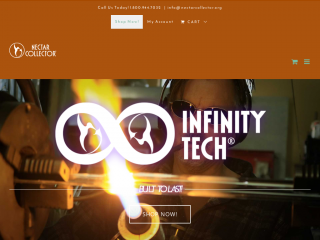 The Nectar Collector was conceived in the backwoods of Oregon as a tool to simplify the process of using concentrates in the rugged conditions of mountain life. In its most humble beginnings, the first Nectar Collectors were simple straws; glass pipettes purchased from the chemistry supply shop. In summer 2011, Jefe Z presented the idea of vertical gear to world class glass pipe maker Kristian Merwin and the Honey Badger straw was born.

Several months later and after some serious R&D the design for an in-line, water cooled, spill proof vertical unit came to Kristian like a lightning bolt from above,
"I was sitting at my desk, preparing to work on drawings for an unrelated project when it came to me in a flash. I drew what I had imagined and went into the studio and made one. Within the hour I was taking a hit from the world's first Nectar Collector. I knew instantly that I had struck gold." (or perhaps Oil?)
With the addition of water filtration the concept was complete. Concentrates would never be the same again.