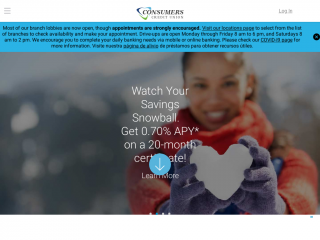 Consumers Credit Union & Andigo Credit Union (now a division of Consumers) have a long history of serving our members and communities throughout the good times, as well as in challenging times. 2020 has become a very unique time in the history of our country and the world at large. Our combined credit union remains dedicated to the principles of diversity and inclusion, in our workplace, in our service to the membership, and in our support of the community.

We celebrate diversity - as all the things that make us who we are - holding that all people deserve fair and equal treatment and respect no matter race, skin color, ethnicity, national origin, gender, age, religion, language, disability, sexual orientation, gender identity, socioeconomic status, family structure, geographic differences, diversity of thought, life experiences and more.

We strive to cultivate an environment that honors differences and supports inclusion. We empower people to contribute and develop to their full potential. And, we actively look at our own service offerings, business relationships and practices to find ways we can do better.

Consumers and Andigo Credit Unions proudly join in pledging to the Credit Union Diversity, Equity and Inclusion Collective's Statement of Commitment and Solidarity with the African American and Black Community. United with the credit union community, we stand together with the African American and Black community against racism.

The Consumers Credit Union family believes diversity, equity and inclusion are fundamental to a vibrant, relevant and growing credit union.