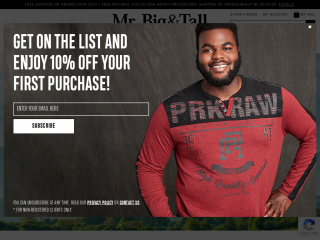 Mr. Big and Tall stores across Canada cater to men of stature, those who need a little extra attention finding just the right fit. We have the clothes you need in a wide mix, everything from spirited and modern to subtle and classic.

On the casual front, find comfortable denim, versatile hoodies and graphic tees from brands like Ocean & Earth and Buffalo. And on the dressier side, our suits, sport coats and dress shirts can be found in fashionable brands like Daniel Hechter Paris and Chaps.

Well-made, well-tailored and well worth a visit—see our Store Locator for a store near you.