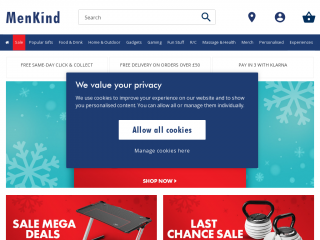 Hi! We're Menkind, a gift and gadget retailer that's all about fun, geeking out, embracing your inner child, and being weirder than broccoli-flavoured ice cream. We stock original gifts for original people, which range from licensed products to personalised items to tech. And, if we can't find an existing product that we want to sell, we just create it ourselves!

Menkind started in 2001 as a gift shop that offered I'd-really-like-that-for-myself kind of gifts, and that's still our passion. We aim to offer an all-out fun experience for anyone who shops with us. But, since we began, we've grown a lot, expanded our target audience, and even had tech brand RED5 join our ranks.

Not to brag, but we have more stores than a busy squirrel in winter. Our shops are spread across England, Scotland, and Wales and we also have numerous concessions in places like Hamleys and Selfridges. Also, much like an eccentric relative, we like to pop up at Christmas! We open an additional 30 or so pop-up shops over the Christmas period, making sure that we're as present as Father Christmas himself.