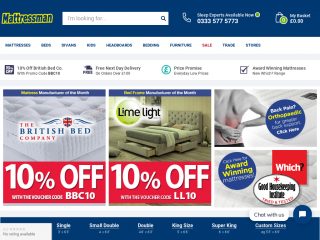 The superheroes of sleep

Mattressman was founded in 2005 in the small market town of North Walsham, Norfolk, and we have come a long way since our small family-led beginnings, becoming a household name with 25 stores nationwide and a strong online presence.

We pride ourselves on being the superheroes of sleep at Mattressman and since opening our first store, we have gained over 10 years' experience in the mattress and sleep industry, earning ourselves a reputation for being the best in customer care – check out our 5-star Trustpilot rating if you don't believe us!

Since our humble beginnings the Mattressman family has grown to include three further businesses: Kerry's Home Furnishings, Cosy and The British Bed Company, allowing us to expand into the home furnishings industry and supply our customers with everything they need to furnish their home with ease.

We take our customers' sleep very seriously and as Britain's biggest mattress specialist, we take pride in offering only the very best mattresses, bed frames, divans, ottomans and bedroom furniture. We also have something to suit every budget. After all, we believe that everyone deserves to get the best sleep possible!

We are extremely proud to have a team of sleep experts in every one of our retail outlets, providing not on the best advice but also making our customers' journey to the land of Nod as easy as counting sheep.

We have a factory on-site where we employ a skilled team of craftspeople to manufacture hundreds of all-British mattresses every day, along with a fleet of delivery vehicles and drivers who take pride in delivering to all of our customers with care, all on a free next-working-day service.