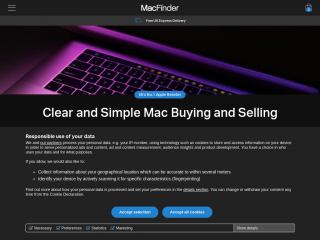 Here at MacFinder, our business is Apple Macs. We love them. You could say we're obsessed in some ways. In the simplest form, we sell and upgrade Macs however there is much more to it than that.

Through our large network of suppliers, we procure a huge range of used Apple systems from a range of backgrounds usually from their first original owner. We purchase in volume and our in-house technical team refurbish the systems for sale back to you, the consumer.

There are a few benefits to what we do not only that we can save you some money! We save a huge amount in IT waste, tons even. All the of stock we procure we refurbish, upgrade parts and replace so that we have minimal waste. In addition, we run an internal technician training program so our team can gain their officially Apple certification creating skilled workers in our local area.