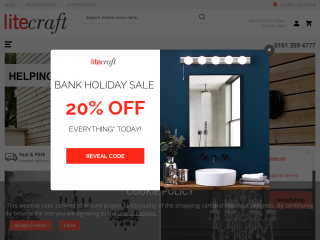 Here's a little history about us..
Litecraft celebrates over 60 years of lighting experience; designing, manufacturing and distributing decorative lighting around the UK. In 1949 we began lighting up your home and we haven't stopped since.

You can find our Head Office in the North West of England just outside the City of Manchester. Everything begins at Litecraft HQ, from the buying to the designing straight through to distribution. Even our dedicated customer support team are here!

Litecraft's strong marketing team work closely with a top photographer to make sure our products look their very best before we can show them to you.

As well as our website you can also see our products in any of our 6 stores around the UK. We are currently located in Manchester, Manchester City Centre, Leeds, Newcastle, Glasgow and Birmingham.

We are proud that this family business has grown to the number two spot in the UK, we're hoping together with your support we can go to number one.

We pride ourselves on our fast delivery service, our extensive choice of product and great value for money.