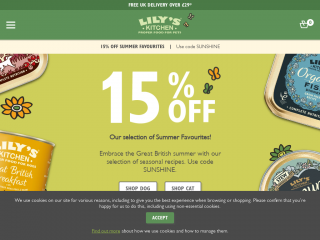 Lily's Kitchen was named after and created for an adorable border terrier, Lily. She's the inspiration behind our proper food for pets.

After cooking for Lily and nursing her back to health, Henrietta was horrified to discover what regular pet food was made from. So she worked with vets, nutritionists and farmers to create some very special recipes using natural, wholesome ingredients, with no nasties. Food she was happy to feed Lily and happy to recommend to others.

Today, we make many more recipes and follow the same principles as when Henrietta first started. It all stems from love, and we put that same love into our food.