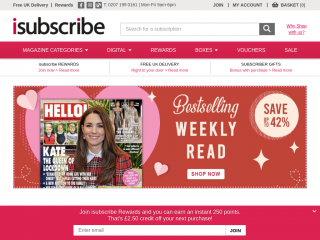 isubscribe is the UK's original and largest subscription marketplace, at isubscribe.co.uk you can explore and purchase a huge range of print & digital magazine subscriptions and subscription boxes.

isubscribe launched in 2000, with the aim of offering customers the biggest selection of discounted magazine subscriptions available online anywhere in the UK. In 2017 we launched our subscription box product range, which we are continuing to add to.

To date, over 1 million subscriptions have been purchased.