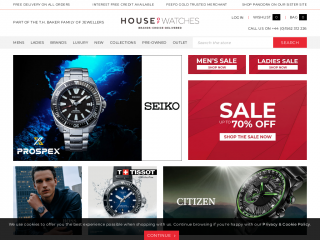 Finest Authentic Products
House of Watches are authorised dealers of every single product on all of our sites, which means you can be assured that every item is a genuine, authentic product direct from the manufacturer, and will be sold with the same relevant warranties, booklets and packaging as if purchasing from the high street. This is also our pledge to you that we do not sell replica, counterfeit, or grey market goods. All of our watch ranges have been carefully selected from our experienced buying team, meaning that every category has the most beautiful, relevant and respected timepieces available in the UK.

Here To Stay
House of Watches is an online trading arm of T H Baker jewellers – a family jewellers with multiple stores and over 125 years experience. T H Baker was founded in the year 1888 by Thomas Henry Baker, and five generations later is still run by the same family. Company operations have moved on significantly to accommodate the expansion over the years; but House of Watches ecommerce team is currently operating from the same address where it all started all those years ago!
House of Watches isn't another fly-by-night internet retailer – we've already been around for 125 years and will be around for many more.