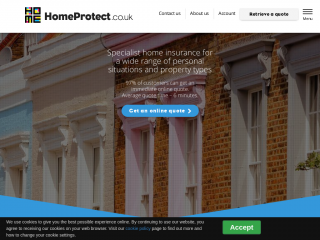 HomeProtect is a trading name of Avantia Insurance Limited, an independently owned insurance intermediary regulated by the Financial Conduct Authority.

As well as providing Buildings and Contents insurance for residential properties in the UK, we specialise in offering cover for those situations which are typically seen as "hard to insure". This includes unoccupied, landlords, flood risk, subsidence, criminal convictions, working from home, poor credit history, and many more.

Unlike most standard home insurance providers, we can offer an online quote in 97% of cases, even for complex circumstances. As well as this, HomeProtect home insurance has been rated as a 5 Star product by Defaqto for providing one of the highest quality offerings in the market. Our policies provide quality cover and can be tailored to include a comprehensive range of features and benefits, such as Full Legal Expenses, Full Home Emergency, Rent Guarantee and Lost Key Cover.