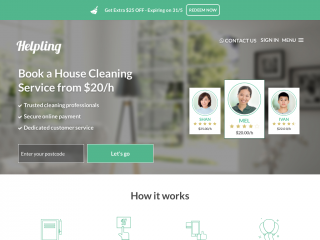 Our Vision:
To give you more free time
Technology has made our lives easier – from booking transport to ordering food, everything is just a click away. We believe booking help for your home should be as easy. That's why we have created Helpling. Through our website you can book a trusted local cleaner within just a few clicks. And while your home is being made spotless, you can enjoy more free time.

Our History:
Helpling is a dynamic startup company headquartered in the heart of Berlin. It took the founders, Benedikt Franke and Philip Huffmann, less than 80 days to bring their idea to market. In April 2014, Helpling launched in Germany and, two months later, the new online service was already available in Austria, France, Sweden and the Netherlands. Today Helpling is available in more than 150 cities and is the most widely-available platform for home cleaning.