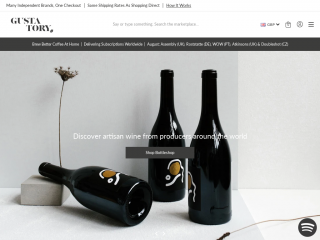 GUSTATORY is dedicated to supporting independent brands looking to reach audiences across the UK and around the world. We feature a curated range of independent coffee roasters, tea makers, winemakers, brands and more, all of whom bring their own flare and creativity to the industry. All of our partner brands are also focused on ensuring their production processes are ethical and sustainable. Being conscious of your impact on both the immediate and wider communities in which you operate is now crucial and is a big part of what we do here at GUSTATORY.

Through our speciality coffee box subscriptions, we work with the environmental charity One Tree Planted, whereby we donate on behalf of every subscriber, every month, in order to help support global reforestation. Trees are hugely important for air, water, biodiversity and the communities in which coffee originates, as well as the communities in which we all live. Without the work that One Tree Planted is doing to address global reforestation, ecosystems around the world would become increasingly threatened and the effects of climate change would be more pronounced, all of which would have direct impact on all our lives.

To supplement our charity partnerships, we've also recognised the waste we are generating through our subscription services and now use only 100% recyclable wrapping, tape and leaflets in all our packages. In doing this, all our subscribers now play a small part in driving sustainability and ensuring the longevity of the ecosystems that both the coffee industry and the planet need to survive. How's that for an added bonus?