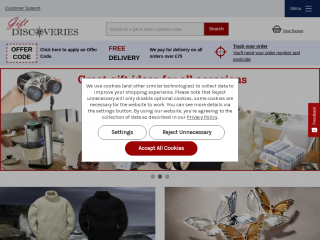 Gift Discoveries was launched only in 2018 as an entirely new concept. The idea was to create a collection of gifts with one thing in common – they should all evoke that "Oh Wow!" reaction when opened. We were delighted with the reaction we received last year, and we believe that
our 2019 range has gone from strength to strength.

The concept might have been new in 2018, but it didn't really start then… it all started some while ago.

For more than 20 years a team of specialist buyers have been travelling the world sourcing product for Scotts of Stow and for The Original Gift Company. Gift Discoveries has seen this team join forces to combine the hunt for the newest and most exciting gifts available. The sort of gifts that we ourselves would love to be able to give, fun gifts, quirky gifts, techy gifts, beautiful gifts, personalised gifts, practical gifts – all of them just a little bit different. With over 850 gift ideas featured in the Collection
join us on a 'Voyage of Discovery'.