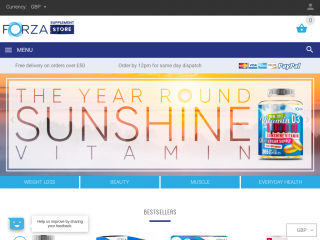 When the FORZA brand was established in 2007, we were the sole manufacturer and supplier of its pioneering T5 formula, which quickly went on to become one of the UK's most popular slimming solutions. Since then, FORZA's rapid evolution has been very well documented and the now-famous T5 range has expanded beyond all expectations.

The fast-moving FORZA brand is now an industry leader, breaking down barriers and exploring new ideas as it continues to strive for ultimate perfection. It now includes a range of pioneering products for Weight Loss, Beauty,Wellbeing and Sports Nutrition.

Although we have now branched out into new markets, we have not forgotten that we are a company built on the success of designing and producing the country's first legal T5. We owe a great deal to the ground-breaking weight loss formula that changed the face of the supplement industry and we are proud to see that all of our high-quality diet pills are now being stocked and sold by many different UK retailers.

However, FORZA Supplements is where the fat-burning revolution began and this is where the revolution will continue until the world's weight loss and obesity demands are finally met.