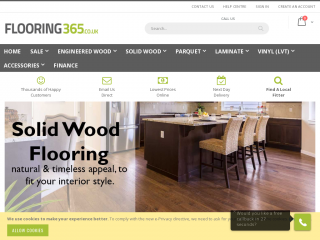 Hudds Floors Ltd, trading as Flooring365.co.uk is an online flooring retailer and the family of the founder has been in the flooring industry for many years.

With this wealth of family experience, we have been able to bring a huge range of handpicked floors to the online world at unbeatable prices. Our head office and showroom is based in Huddersfield, HD3 4HT and we currently have warehouses in the UK; London, Leeds, Southampton, Coventry, Cardiff and Hartlepool.

We have dedicated showrooms in Huddersfield, Macclesfield and Belper where samples of our large range of wood flooring can be collected. We also offer expert advice on flooring in person, if you plan to give us a visit.