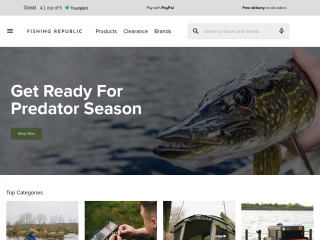 With a massive range of products across our many retail stores and giant online tackle shop, Fishing Republic aims to bring you the best choice and value in UK angling. Our staff live and breathe the sport, across all disciplines and can advise you on all aspects of tackle, from carp and coarse, to sea, fly and predator fishing.

From humble, niche beginnings however, the company slowly grew from a minnow to one of the biggest fish in the pond over the next three decades.

Today, Fishing Republic's 66 retail outlets and huge online shop sell over 16,500 product lines, covering every aspect of the sport. But no matter how much we grow, our main focus is still you, the anglers who make up the real Fishing Republic! Our staff members are as passionate as you are, whether it's carp, coarse, fly or sea angling. We rely on their expertise to select the best tackle for every budget, with friendly service to help everyone enjoy the brilliant sport of fishing.