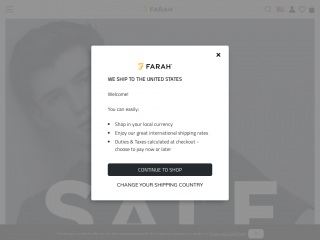 Farah goes way back. Founded in Texas in 1920 it made workwear, so knows a thing or two about well constructed, durable clothing. However Farah was re-born in the UK during the 1970s - such that for half a century now it's come to be considered quintessentially British. Famous for its slim, sharp, hopsack canvas trousers, Farah played a key part in the style of Mods, Rude Boys, Casuals and the 90s' indie music scene - each sub culture making our signature Farah F Tab its own.

At Farah we're doing all we can to be more sustainable. Our basics collection and many of our fashion lines are now made with 100% certified organic cotton, which has a less harmful impact on the environment. This means zero chemicals and less water usage, reducing our environmental impact. We've also removed all unnecessary packaging and wrapping from online orders, and have joined the international Clevercare campaign in labelling our clothing. This helps to inform consumers about how best to launder their clothes as, after all, 30% of the carbon footprint of a piece of clothing comes from the way it's laundered. This is just the beginning, and we're committed to continue to move as many styles as possible into more sustainable fabric bases over the coming years.

When you have almost a century of history behind you, it's all too tempting to get lost in heritage, but while we're proud of the years behind us, Farah aims to only look to our yesterdays so much as they inform our tomorrows. Farah is all about providing men with the right clothes from which they can confidently create their own style. That means each season we consistently offer a thoughtful line-up of both updated classics and trend-led pieces.