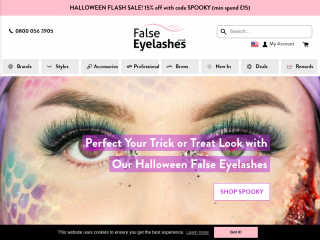 We're a ecommerce business, our office is located in North Wales. Over the last few years we've curated huge selection of false eyelashes, including all of the big brands such as: Ardell, Eye Candy, Eylure, House of Lashes, KoKo Lashes, Lilly Lashes, Red Cherry Lashes and more! There's no need to look anywhere else for false eyelashes any more - we're your one-stop shop.

If a brand can't be found here at FalseEyelashes.co.uk, it's not worth bothering with. We only stock the best brands who offer the most popular styles, and of course consistent quality.

We enjoy our quest to stock the biggest selection of false eyelashes found anywhere in the UK. At present we carry over 2000 styles, but we're always adding more. If you've got any brands or styles that you'd like us to stock, just let us know!

We don't just stock eyelashes, we also sell lash glues and remover too. From strip lashes to individual lashes - we've got them all, and for every style of lash we stock, we also stock the correct glue. We're confident you'll be spoilt for choice when you browse our fantastic range.

In addition to offering one-time purchases for our customers, we've also rolled out subscriptions on most products found here on our website. To find out more about our eyelash subscriptions, be sure to read our Subscription FAQ page.

If there's anything we can do to help during your time here on our website, before or after you've placed your order, please contact us via email or telephone and we'll be happy to assist you.