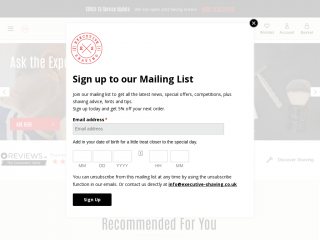 Welcome to the Executive Shaving Online Store, let's get one thing out in the open straight away, we care about our customers, we care about getting it right and we are passionate about what we sell. Since 1993 The Executive Shaving Company has delivered the finest shaving and male grooming products worldwide from our Glasgow, Scotland warehouse and office. We stock names such as Simpson, Castle Forbes, Musgo Real, Above the Tie, Muhle, Merkur, Dovo, Geo F Trumper and Taylor of Old Bond Street, to name but a few.

It is not hard to see why we're the leading online supplier of shaving and grooming products and one of the largest online shaving and grooming shops in Europe. In fact, we stock over 1,500 different items from 136 brands. We love to showcase small artisan brands such as Marfin of Italy, Thiers-Issard of France and Lomond Soaps and Stef Baxter of Scotland. No other independent shaving and grooming supplier anywhere offers such dazzling choice.

Our highly successful, top-selling Executive Shaving range includes three natural shaving creams and matching aftershave balms, pre shave soap, pre-shave oil, the much-admired The Braveheart Safety Razor for those who love a close shave, The Mild Safety Razor, The Claymore and Chieftain Single Edge Razors and a range of high quality badger and synthetic hair shaving brushes. Our Big Jock range of shaving brushes gets wonderfully complimentary reviews from users. We are constantly updating our product range and pricing strategy to ensure that our customers get the best quality shaving and grooming products at the keenest prices possible.

The Executive Shaving Company is rated 'excellent' by Trustpilot with 98% of buyers rating our service as Excellent or Great. You can trust us to get your order to you quickly and it will arrive in pristine condition.