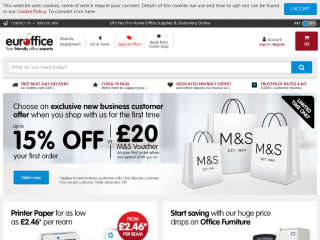 Euroffice is a full-service business and office supplies provider with a knowledgeable team of Friendly Experts. We're always here to support you with personalised advice and help you to get everything you need for your office at unbeatable value, quickly and efficiently.

With over 30,000 products available for next day delivery online and with access to 100,000's more through our dedicated team, you can be sure to find what you are looking for.

Browse our extensive range of products online, including office stationery, copier paper, ink cartridges and printer toner, furniture, office machines and packaging. Our range of leading brands includes HP, Canon, Brother, Pilot, Sellotape, Post-it, Bic, Rexel and much more.