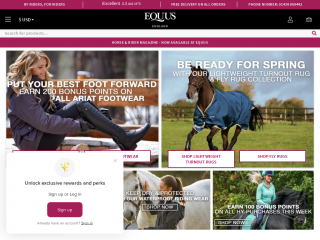 Our story begins in January 2013.

We all want to spend as much quality time as possible with our horses. What we definitely don't want to be doing is spending that time chasing around the country for a particular equine product, running from tack shop to country store, or searching for fruitless hours online then waiting up to a week or more for delivery.

Frustrated by this lack of available options for convenient quality equestrian clothing and tack, co-founders Kim Horton and Steven Wood were inspired to bring customer-focussed shopping to the forefront of the online equine retail sector.

"Equus really grew from a rant I had about a particularly disastrous trip to the tack shop," says Kim. "As a keen horse rider working full time, I was unable to find somewhere that sold the kind of quality equine clothing and equipment I wanted, AND could deliver it to me quickly and reliably."

As fate would have it, Steve was studying for an Entrepreneurship elective for the MBA (Master of Business Administration) at Cranfield School of Management. After listening to Kim's frustrations, he suggested that the two of them take all of the experience they had gained working with blue chip retail companies such as John Lewis, Argos and Tesco.com, alongside his MBA knowledge, and explore the possibility of setting up a new kind of online equestrian store.

With that the two founders set out to build a one stop online shop which provides riders with the best products carefully curated for them by a team with a real passion for horses based around 3 core principles:

By riders for riders - Only provide products that the rider focussed team truly believe in and which offer best in class performance for their use.
Provide excellent customer service - Make the customer journey and experience key to the business operations.
Add value to the community - By giving customers the information and advice they really need for them and their horses to lead a better equine life.