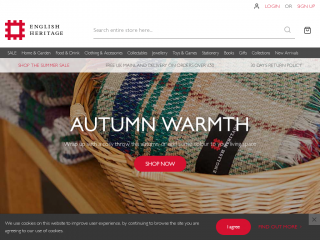 The English Heritage Retail Department are responsible for the sourcing, distribution and presentation of all retail products sold both online and in our gift shops at over 100 properties.

Our Buyers work with designers and suppliers to select and create new products best fitting the stories and themes that reflect the history of each property.

A wide variety of people visit our online and property gift shops daily to purchase a gift or souvenir. Our extensive range of gifts from drinking vessels to children's dressing up, books, jewellery and food are all inspired by England's vivid history to present our visitors with an exciting and distinct retail offer.

Our online shop acts as a gateway to the wider array of gifts we present at each property, it showcases and promotes exclusive or limited availability products and communicates with our customers via monthly e-news letters.